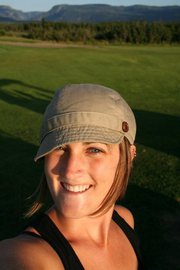 "Beky' r u 'dateing Frasier?" -The Chat
"Of course I'm datying Fraseyer!" -Becky
"Dickwad! ☜(゚ヮ゚☜)" -Becky
"My pee is gonna save the day one day!" -Becky
"I just want to eat his noodles in bed" - Becky, Apollo Justice.
Becky has been Fraser's girlfriend since 2002. The first thing she ever said to Fraser  was, "So you think you're pretty smart, don't you?" She was the Executive Producer of Video Games Awesome from the start and became a co-host in 2010. Becky first appeared in the Earthbound live show reading and chatting in the chat for Fraser and the gang. Shortly after, Ben Taylor left to attend school. Becky took over his role, first appearing in the November Show & Trailer episode. Since then all five have appeared on the show after Ben returned. Along with Ben and Fraser, Becky is one of the more regular cast members of the show.
Becky is hailed as the patron saint of
The Chatroom
, reading comments for the show, as well as answering questions during the pre-show and post-show.
VGA focuses mostly on console or PC games, but Becky is the designated Handheld Game expert of the show. She can often be found playing on the community Mario Kart tracks.
The Lego City episode was Becky's first topless episode; it was revealed that not only is she incredibly ripped, but she also lost her nipples in a bacon accident. The doctors offered to graft dog nipples to replace them, but she refused, since she didn't want six nipples.
Becky frequently makes costumes for the crew to wear during live shows.To see these costumes, see the article Costumes.
Before Video Games Awesome Started
Edit
Back before Video Games Awesome happened, Becky had her hair blond (#FAF0BE) until sometime after the Earthbound Live show. This is easily the most important and interesting fact of all time.
Minecraft Awesome
Edit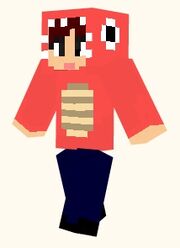 Becky joined the
Minecraft Awesome
server for the first time alongside
Ben
in January 2012 for the
Minecraft AWESOME! Expedition!
episode. Her username is MissBlow, and her default skin is a girl wearing a red dragon hoodie, based on her costume from the
Skyrim
episode. She currently resides at
Fort Snarf
and was the owner of a dog named Pokey, which meowed like a
cat
, until its tragic death (at Becky's hands). Pokey's meows still haunt her to this day. Unfortunately, she blamed Ben for his death due to his involvement in the
Ruddadog
incident, forgetting she lost him to a creeper explosion. 
In the Valentines Day build in 2013 Becky admitted to finding a way through the invisible barrier around Crew Island and walked for days and days until finding Portal Hub. Becky can be often found on Minecraft on weekends and almost always on for Minining Mondays in the evening.
See Also:Edit