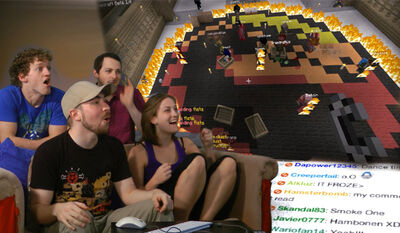 Exhibition Matches are live competitions that pit fans of Video Games Awesome against one another. With the exception of Minecraft Kombat, these matches are exclusive to Turbo Club members.
Previous Matches
Edit
Note: This list is incomplete
First Match
Bombnomicon Update (Halloween 2011)
Smissmas Update (Christmas 2011)
Team Fortress AWESOME Romance! (Valentines Day 2012)
Pyromania (July 2012)
Minecraft Kombat: A fighting tournement done in the style of Mortal Kombat. Various arenas were built ahead of time, and all contestants had to dress as Mortal Kombat characters (with a few exceptions such as the Kool-Ade man) and perform a finishing move.
Mario Kart Turbo Cup Grand Prix