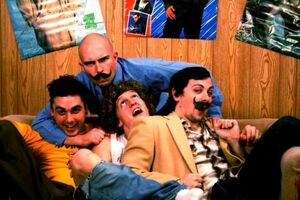 The FFStv President is in charge of Far From Subtle productions and all its shows. He is played by Fraser Agar, and only makes a single appearance on the show Awesome Video Games, at the end of the Game Genie arc. The FFStv president appears with Ace, Chet, and Dad to warn viewers not to do cheat codes.
The character's scene and inclusion is a parody of "very special episodes" from family sitcoms that deal with serious issues like drug use.
The President's voice and moustache makes him appear very similar to Dad's Dad, though there is no other evidence to suggest they are the same character.
Despite the President's one-time appearance on the show, his face is seen on promotional art, and is the basis of Fraser's default Minecraft skin.