Frage
refers specifically to the type of rage
Fraser
can succumb to during a live show. If Fraser is being beaten hard by a frustrating game such as
VVVVVV,
Duke Nukem Forever
, or
Babysitting Mama
, or if he is being
trolled
by
the chatroom
, he can get less than happy. The phrase was coined during the
Sonic Generations
episode when the challenge levels started to piss Fraser off.
Things that result in Frage
Edit
False / Nonspecific Snarfs
Saying that Fraser doesn't play the game right or that he is making the "wrong" choices
Game breaking glitches
Phoenix Wright logic / Logic breakdown
Measurement of Frage
Edit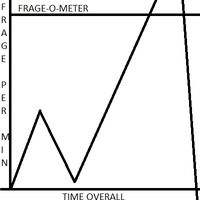 Scientifically Frage is measured the same way as sound, as it fluctuates at certain amounts in a given time. (per sec/per min)
Frage fluxations are very well known to change drastically over time which still baffles scientists today. The sudden highs of pure concentrated Frage are often followed by a huge drop and if intercepted by a human, can cause shear amounts of joy usually uncommon in a human psyche and anatomy. (ie: running throught the streets naked laughing).
Rarely, repeated Frage peaks can result in a Frage Quit.
Frage in the Media
Edit