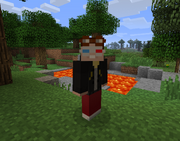 MrChrisMad is a former Moderator for Minecraft Awesome, and was the first official intern for FFStv. MrChrisMad edited videos for VGA, and was considered Fraser's right-hand man on the staff. Chris also made some original videos that got featured on the show, such as a Nickelback cover of "Friday" for Fraser, titled Fraser.mov, or a Real-Life minecraft video that was featured on the Pre-Minecon Show & Trailer epsiode. He also assembled the montage for the Minecraft Awesome Anniversary episode.
Mr. Chris Is Mad
Edit
Because of his name, many people read it as "Mr. Chris is Mad", and generally assume he is mad all the time. People including Fraser poke fun at his name, saying things such as "U mad, Chris?"
Build Challenges
Edit
MrChrisMad was in charge of the Old West Build Challenge, which is where he first became mayor. As a result, he makes himself mayor of every town that doesn't already have one as a joke, including Spawn City.
Also Lead Organizer of the 2011 Halloween Challenge (which is why is was so insane and weird)!
Chris was the co-organizer of the Adventure Build, with Aughts.
Minecraft Olympics
Edit
MrChrisMad was noted for flagrant cheating and trolling when he represented New Old Port in the Field events, frequently being disqualified. In the Javelin toss, Chris fired a bow rather than threw an arrow, he used the discus in a record player for "style points". He disqualified the long jump by using godmode and in the high jump by teleporting through the bar. He did however rightly win the Survival round (and he's very proud of it)