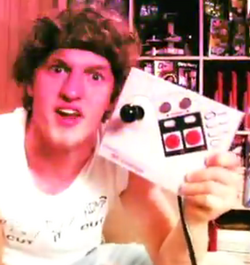 "I say, fellow Turbos, spiffing day we have here, eh wot wot?" -Turbos
This page is about the exclusive Video Games Awesome fan club. For a similarly named article, see Turbo Sticks.
Turbo Club is a special feature of Video Games Awesome that grants special access to fans. The Turbo Club was created as a way to reward fans who had already donated to VGA, as well as create a more close-knit community for the show.
For a one-time $50 CAD donation (a yearly donation of $50 is requested), Turbo Club members get the following benefits:
Whitelisting to the Minecraft Awesome server (New members are turbo-only as of January 2012)
Early access to episodes before they posted on the VGA site
Access to the private Team Fortress 2 VGA server (Turbo-only as of January 2012)
Access to the private Turbo forums on the FFSTV website (there are other, public forums on the site too)
Turbos get to use the official chatroom during live shows and chat directly with VGA. Non-turbos are sent to the Shadow Chat
The ability to partake in Exhibition Matches
Because Turbo Club is in development, the benefits are still being worked out.
Members of the Turbo Club enjoy putting together their own community projects outside of TF2 and Minecraft. For such activities, see the Community Portal.